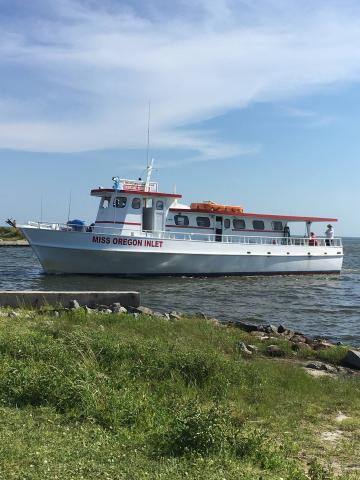 Book thru:
August 8th, 2018
to
August 13th, 2018
For Stay Dates Between:
September 1st, 2018
to
November 11th, 2018
Call to Book Number:
866-453-9660
Get a free fishing trip or dolphin tour when you book by August 13th!
Adventures continue well into fall on the Outer Banks! Experience one of the oldest and most iconic pastimes on the whole East Coast on your next visit. This week's Fall Adventure Series package features the Miss Oregon Inlet Head Boat and the newest vessel of the fleet, The Safari. Memorable experiences await anyone who steps aboard these watercraft. Whether you're an experienced angler, a first time fisher, or just trying to relax on a dolphin cruise, there's something for everyone. 
Book your home before August 13th and use promo code FISH18 to recieve vouchers for two adults and two kids for a half day fishing trip OR dolphin cruise!
(Travel valid through 11/11/18).
Certificates are valued at 172$. Value based on cost for two adults/two kids to take a half day fishing trip or dolphin cruise. Guests are responsible for calling Miss Oregon Inlet Head Boat to book excursions. Minimum of 10 passengers required for departure.  
*These vacations are limited. Destinations and travel times are subject to availability and confirmed on a first come, first served basis. Offer includes only accommodations and specifically excludes travel costs and other expenses that may be incurred. Taxes, additional fees, and charges may apply. Cannot be combined with other offers and is valid on new reservations made between 8/8/18 and 8/13/18 with stay dates between 9/1/18 and 11/11/18 only. Other restrictions may apply. Offer void where prohibited by law.