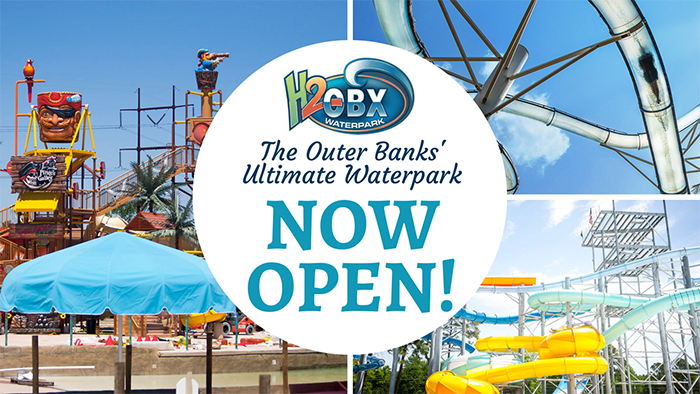 It's not often that something completely new makes its way to the Outer Banks, so we couldn't be more excited to tell you that your summer is about to get wetter, cooler, wilder and splashier!
Inspired by North Carolina beach architecture and splashes of the rich history of the Outer Banks, H2OBX opened in nearby Powell's Point this summer. This is a world-class waterpark with over 30 adrenaline inducing rides, slides, and other attractions.
What's so cool about H2OBX? Let's start with the 30,000 square foot, Cat-5 Bay wavepool. Then, there's the Endless Wave FlowRider, the 1,000' long, lounge-worthy Teach's Tides Adventure River, amazing thrill rides like Wild Horse Run, the Plank and Paradise Plunge, and two massive six-person family raft rides in Rogue Wave and Queen Anne's Revenge. And of course, there's plenty to keep the kids occupied, from Calico Jack's Cove to the first-of-its-kind Twin Tides Wavepool.
Need to relax? H2OBX features 50 standard and deluxe Cabanas throughout the park, providing you the opportunity to lounge in style and live the high life. Great food, drinks and shopping? H2OBX will have that, too.
To top it all off, H2OBX will be limiting the number of tickets each day to ensure a guest experience like no other. As an affiliated partner of H2OBX, confirmed guests of Corolla Classic Vacations have access to both a larger number of tickets each day than the general public, and a $5-$7 per ticket discount off the retail price! See ticket options below.
General Admission (42" and taller): $34.99             
Valid for one day, single admission, on the date you select at checkout.
Save $7 per ticket!
Child (under 42"): $25.99 
Valid for one day, single admission, on the date you select at checkout.
Twilight Ticket (All Ages): $28.99   
Valid from 3pm-7pm, single admission, on the date you select at checkout.
House Ticket Package (All Ages): $349.99
Buy 10 and get 2 free!  Valid for one day, single admission, for up to six days past the date you select at checkout. All guests must be present at time of use as tickets will only scan once and cannot be split among dates and guests.
Save $69.98 on 12 tickets!
For more information on how to book your next OBX family adventure with Corolla Classic Vacations, and to take advantage of our partnership with H2OBX, contact one of our vacation rental specialists today!
Book now for the summer and we'll send you the info for discounted tickets!